Manufacturing of a High Precision Drill & Ream Fixture for the Military/Defense Industry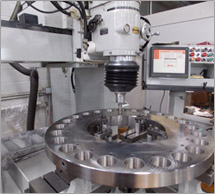 (click on thumbnail to enlarge)
Dynamic Precision Tool & Manufacturing was commissioned by a customer in the military/defense industry to manufacture the custom drill and ream fixture highlighted here. This high precision part was manufactured with ANSI type D2 tool steel, creating the specified profile with CNC turning and machining processes, executing the precision finishes and details employing multiple grinding techniques including surface grinding, jig grinding, and ID/OD grinding. A range of advanced equipment were utilized for this construction including Mazak CNC Lathe, Hurco CNC machining center, Okamoto surface grinder, Heald OD/ID grinder, and Moore CNC G48 jig grinder.
Finished dimensions for the fixture were an outside diameter measurement of 28", and a height of 2.31". The tightest tolerances required, including ±0.0005" true position, ±0.0003" on jig ground bores, ±0.0002" squareness, and within ±0.0005" on OD and ID's. The part exhibited a combination raw machined and 32 Ra surface finish. Quality and accuracy were ensured with comprehensive dimensional and visual inspections. 1 unit was created after a turnaround time of 6 weeks, delivered to the customer in Sunnyvale, California. For more details about this custom MRG drill and ream fixture fabrication, or our other superior quality high-precision manufacturing capabilities for critical applications please see the table below or contact us directly.

Highlights of this Precision CNC Turning and Machining Project:
Capabilities Applied/Processes

Primary:
CNC Precision Turning
CNC Machining
Surface Grinding
ID/OD Grinding
Jig Grinding

Secondary:
Heat Treating
Deburring
Equipment Used to Manufacture Part

Mazak CNC Lathe, Hurco CNC Machining Center, Okamoto Surface Grinder, Heald OD/ID Grinder, Moore CNC G48 Jig Grinder.
Overall Part Dimensions

Outside Diameter: 28"
Height: 2.31"
Tightest Tolerances

Within 0.0005" on OD's and ID's
Within 0.0003" on Jig Ground Bores
0.0005" True Position
0.0002" Squareness
Material Used

Tool Steel: AISI Type:D2
Material Finish

Raw/Machined
32 Ra
In process testing/inspection performed

Dimensional Inspection, Visual Inspection
Industry for Use

Military/Defense
Volume

1
Delivery/Turnaround Time

6 weeks
Delivery Location

Sunnyvale, California
Standards Met

Customer Specifications, 2D CAD Drawing
Product Name

MRG Drill & Ream Fixture