ID/OD Grinding Services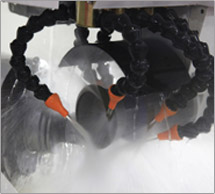 (click on thumbnail to enlarge)
Founded in 1982, Dynamic Precision Tool & Manufacturing has built a strong tradition of precision machining and grinding to tight tolerances with quick turnaround times. Our Inside Diameter (ID) and Outside Diameter (OD) grinding perfectly exemplifies this, with our advanced machinery capable of internal, external, plunge, radius, form, and precision grinding. Utilizing our TRU TECH CNC (8" X 20") OD GRINDER we are able to grind a variety of traditional and exotic materials, including steel, stainless steel, aluminum, brass bronze, copper, carbide, Inconel, Hastelloy, and Monel, among many others. We ID/OD grind parts up to 8" in diameter, up to 20" in length, with surface finishes of 8 µin and to tightest tolerances of ±.0001".
Because quality is important to us, we utilize a Coordinate Measuring Machine (CMM) and various precision inspection tools and systems, including surface plates, bore ages, air gage, height gage, profilometer, and height optical comparators, as well as testing for hardness, and surface roughness. We also provide design services and precision gages for our clientele. Our facility specializes in short lead times, with rush services available. Typical turnaround times are from one week to one day, depending on job requirements.
At Dynamic Precision Tool & Manufacturing, we take quality seriously, our facility is ISO 9001:2008 certified, and can comply with all applicable ASTM, and AISI standards. To learn more about our ID and OD grinding, please see the below chart or feel free to contact us directly.

ID/OD Grinding Capabilities:
ID/OD Grinding Process

Inside Diameter
Outside Diameter
Internal
External

Plunge
Radius
Form
Precision
Automation Capabilities

Center Feed
CNC
Materials (Metals) (Exotic Metals)

Steel
Stainless Steel
Aluminum
Brass
Bronze
Copper
Titanium
Tungsten

Molybdenum
Nitronic 60
Nickel Alloys
Carbide
Non-Magnetic
Inconel
Hastelloy
Monel
Part Diameter

Up to 8 in
Part Length

Up to 20 in
Surface Finish

8 µin
Tolerance

± .0001 in
Inspection

Coordinate Measuring Machine (CMM)
Optical Comparators
Profilometer

Height Gages
Sheffield Comparators
Surface Plates
Testing

Surface Roughness
Hardness
Quality Documentation

Blueprints
Job Router
Additional Services

Design
Precision Gages
Production Volume

Prototype to Short Runs
Typical Lead Time

1 week
1 day (Possible)
Rush Services Available

Quick Turnaround
Short Deliveries
Additional Information
Industry Focus

Aerospace
Defense
Automotive

Medical
Technology
Trucking
Intended Applications

Assemblies
Critical Parts

Precision Components
Production Parts
Industry Standards

ISO 9001:2008 Certified
ASTM
AISI
Efficiency

Lights Out Manufacturing
File Formats

CAD/CAM System
MasterCAM
DXF

IGES
STEP
DWG